This is a Sponsored post written by me on behalf of Miracle-Gro for SocialSpark. All opinions are 100% mine.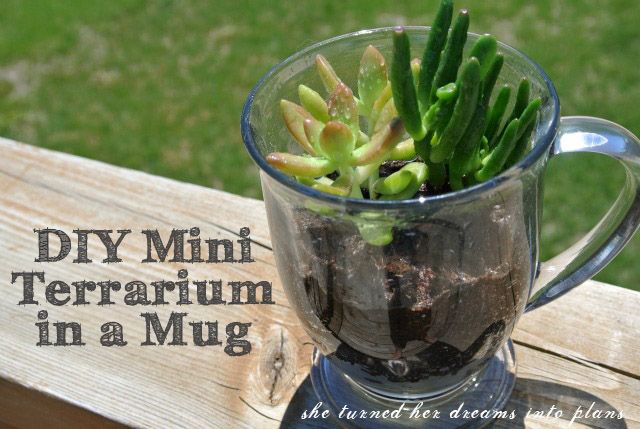 I've always loved gardening but lately I haven't been able to do anything with gardens or plants. We moved into our house last summer and I was pregnant with little man, now this summer I'm pregnant again. Next year I plan on making a small garden in the back. For now though I have to get by with potted plants. 
A fun and easy project I made today is a mini terrarium. I got the idea from Miracle-Gro's The Gro Project. They are working to create fun projects that show gardening can be easy and enjoyable. Check out their fun garden projects on Pinterest to see some more great ideas!
For indoor and potted plants, Moisture Control Potting Mix works great. That is what I used in my project today. You can also use Shake'n Feed All Purpose Plant Food to help your indoor plants grow. If you have a bigger, outdoor area to take care of try using LiquaFeed All Purpose Plant Food Advance Starter Kit.
Mini Terrarium in a Mug
Here is what you will need:
Miracle-Gro's Moisture Control Potting Mix
Glass Mug
Handful of small rocks
1 or 2 small succulent plants
Spoon 
1. Place the rocks in the bottom of the mug and fill half-way with potting mix.
2. Use the spoon to dig holes that the plants will fit into. Place the plants in the mug and cover the roots with potting mix so that they are snugly planted. 
This would make a special gift that is easy to make. I am going to keep mine because it is the first houseplant I have had in years. I blame the cats for that. I just hope I can keep them away from this one!  Make sure you check out Miracle-Gro Online to find more gardening tips and advice.